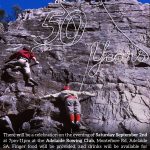 When:

September 2, 2017 7:00 pm - 11:00 pm

Where:

Adelaide Rowing Club




Loading map...

Summary:

50th Anniversary Celebration

Details:

In September of 2017, the CCSA will celebrate 50 years since its founding. A celebration of the occasion will be held at the Adelaide Rowing Club, Montefiore Road, Adelaide, South Australia on 2nd September from 7-11 pm. Finger food will be provided, and drinks will be available for purchase from the bar. A number of prominent climbers will be presenting adventures on the night. We would love to see you there – you can purchase tickets from the widget below.